JOURNAL OF PARLIAMENTARY STUDIES
---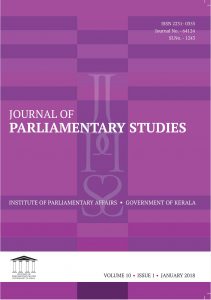 A peer reviewed bi annual journal from institute of Parliamentary Affairs
Editor- Dr.Biveesh U.C, Director General, Institute of Parliamentary Affairs.
Editorial board
Prof. J Prabash, Former Pro Vice Chancellor, University of Kerala
Prof. John S Moolakkattu, Central University, Kerala
Prof. A K Ramakrishnan, Jawaharlal Nehru University, New Delhi
Prof. K M Seethi, Mahatma Gandhi University, Kottayam
Prof. Mathew Joseph C,Jamia Millia Islamia, New Delhi
Dr. V Bijukumar,Jawaharlal Nehru University, New Delhi
Aim and Scope
---
Journal of Parliamentary Studies publishers original research articles on issues and problems in the areas of Democracy and Constitutionalism, Parliamentary Democracy, Social Change, Development, Political Economy, Law, Ethics, Philosophy, Culture, etc. We welcome articles which are pluralist in outlook. We believe that such articles are in great demand by the academic and the policy makers and the interested public.
Each volume will contain research articles, and a mixture of review articles and essays, interviews, etc. Submission to the journal will be taken as indicating that the work is original, unpublished and not under consideration elsewhere. The decision of the reviewers will be final.
Notes for Authors
---
Journal of Parliamentary Studies 
Journal of Parliamentary Studies is a University approved peer reviewed bi annual journal of the Institute of Parliamentary Affairs. The Journal publishes original research articles on issues and problems in the areas of Democracy and Constitutionalism, Parliamentary Democracy, Social Change, Development, Political Economy, Law, Ethics, Philosophy, Culture, etc. Read more…
Annual Subscription
---
Individuals : Inland Rs. 200.00 Abroad $20
Single Copy : Inland Rs. 200.00 Abroad $20
Institution/Library : Inland Rs. 200.00 Abroad $20
Life Members of INPA: Inland Rs. 300.00 Abroad $15
Volumes Published
---